---
BERNHARD

NEW YORK
---
Over this Water Route
St. Legerís Army
passed to invest Fort Stanwix, July 29, 1777.

State Education Department

(Bernhard Marker)

From the small park sandwiched between Route 49 and the lake, be sure to note the view of the lake and the objects in the park, including the naval cannon, shipís bell and St. Leger marker.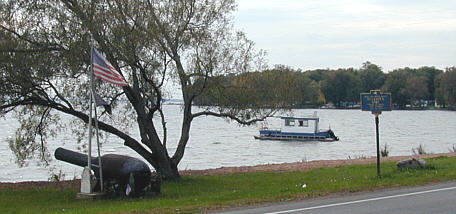 St. Leger departed Fort Ontario on July 26, 1777. As indicated by the marker in this small park, St. Leger passed this spot three days later. To make his journey by water easier, St. Leger did not bring any large cannons. He would regret this decision upon reaching a well-fortified and strong Fort Stanwix.

---
Enroute to Fort Stanwix
George Marsden Grave Site -- As noted on the grave plaque, Marsden resigned from the British army and joined the American forces in Boston.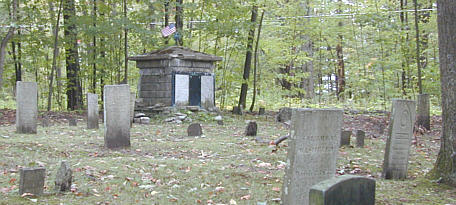 The graves of Captain and Adjutant George Marsden, personal friend and staff officer of General George Washington, who died Nov. 12, 1817, aged 80 years. Also his wife, Wilmuth Lee of Virginia, sister of Richard Henry Lee, a signer of the Declaration of Independence, who died January 13, 1850, aged 93 years.
Capt. Marsden resigned his rank in the British Army of Occupation, then stationed in Massachusetts and accepted an office in the American Colonial Army at the outbreak of the Revolutionary War.
He fought at Bunker Hill and in all of the battles of Massachusetts and eastern New York. His conspicuous military brilliance won his promotion in 1779 to the office of Adjutant on Gen. Washington's Staff.
In 1782, Adj. Marsden married Miss Lee and located at Mystic, Mass, remaining there about one year. They moved to the then forest wilds of Bernhards Bay and built their permanent home about 6 miles west of this plot. Their log cabin abode was honored in 1783 by a three-day visit by General Washington while on his tour of inspection of the central New York fortifications.
(Marsden Grave Marker)
Old Erie Canal and Restored Erie Canal Village -- Forty-one years after the signing of the Declaration of Independence, the construction of the Erie Canal began here on July 4, 1817. A little over two years later, the first section was completed from Rome to Utica. The entire canal, from Albany to Buffalo, some 360 miles, was completed in 1825.
---