---
GREAT BARRINGTON

MASSACHUSETTS
---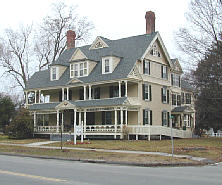 The Wainwright Inn was built in 1766 by Captain Peter Ingersoll, just five years after the town of Great Barrington was established. Henry Knox reached Great Barrington about January 14, 1776 and it is likely he stayed here. Later, the inn was fortified and used as a colonial armory.
The Wainwright Inn is just south of the light at the intersection of Routes 7 and 23. Just beyond the intersection is the Searles Castle, a noted area landmark. The castle was built in the late 1800's by the estate of Mark Hopkins, the railroad tycoon who was a builder of the first transcontinental railroad. The castle is now a private school.
Across the street from the castle is the St. James Episcopal Church. Organized in 1762, the congregation was a witness to the passing of Knox's train of artillery.
ST. JAMES CHURCH EPISCOPAL

Built in 1857-58 as the third church of the parish, organized 21 September 1762, as an early outpost of the Church of England in Western Massachusetts by the Society for the Propagation of the Gospel in Foreign Parts.

(Church Marker)
---
Enroute to Westfield
Blandford, Massachusetts -- Colonel Knox and his train of artillery passed through the town about January 20, 1776. Near the center of town is a small park with a Knox Trail marker and a marker honoring the town's "revolutionary heroes three hundred strong."
1775 BLANDFORD

Revolutionary heroes
three hundred strong.

For God and Home, 1926.

(Blandford Marker)
Westfield River -- When Knox reached the steep descent to the Westfield River, panic embraced the train. They could not pull their sleds down the steep mountainside without losing complete control of them. Knox was forced to use ropes around trees to slowly lower his heavy, military cargo down the mountainside.
---