---
MARLBOROUGH

MASSACHUSETTS
---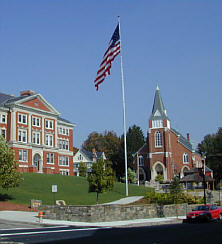 Marlborough was the home of William Ward, the great-grandfather of Artemus Ward. There are two markers in Marlborough about William Ward. The first is on the "High School Common" and the other is a quarter-mile up the main street at the intersection with US Route 20.

The left road leads to Spring Hill Cemetery, Marlborough's first burial place about 1675. There lie many of the founders of the township, men whose courage and industry transformed an Indian wilderness into an American community which has developed into the Marlborough of today.

Among those pioneers were William & Elizabeth Ward, the great-grandparents of General Artemus Ward, the first Commander-in-Chief of the American Revolution.

(Marlborough Marker)
---
Enroute to the Wayside Inn
Wayside Inn Gristmill -- As you near the Wayside Inn, watch for the 1807 Gristmill on the right. There is a marker just before the Gristmill.

This tree planted in memory of General George Washington.

Placed by the Society of Daughters of Colonial Wars, Commonwealth of Massachusetts.

(Wayside Marker)
---

Onto Wayside Inn, Massachusetts