---
PALMER

MASSACHUSETTS
---
Like Springfield, Palmer was also a crossroad during the Revolutionary War. Just south of town is a marker that denotes this part of US Route 20 as the George Washington Memorial Highway at Palmer. The marker is in reference to Washington's trip to Boston to take the reigns as Commander-in-Chief of the Continental Army.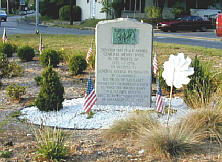 There is also a Knox Trail Marker in Palmer. Henry Knox passed through Palmer about January 27, 1776.
British prisoners from Saratoga also passed through Palmer. Baroness von Riedesel, who was traveling with her prisoner-husband, Friederick von Riedesel, recorded that Palmer was a "wretched little village."
US Route 20 makes a left turn about a mile after the Knox Trail marker, then makes a right turn out of town..

This tablet marks the George Washington Memorial Highway at Palmer, 1732-1932.

(Palmer Marker)
---
Enroute to Sturbridge
Brimfield -- Unlike the reception in Palmer, Baroness von Riedesel recorded that the residents of Brimfield "opened the doors to us and called us brothers." No doubt, the receptions varied from one town to another as the prisoners of Saratoga were moved to Boston.
At the center of Brimfield are several markers about the area's Native American past.
STEERAGE ROCK

Four miles distant on the summit of E. Waddaquodduck is Steerage Rock, a landmark on the Indian trail which became known as the bay path and a guidepost to the pioneer settlers of the Connecticut Valley from Massachusetts Bay in 1636. Massachusetts Bay Colony Tercentenary Commission

(Brimfield Marker)
Old Sturbridge Village -- The village is a re-creation of a time period about fifty years after the Revolutionary War. A visit to the village is a recommended stop on a longer visit to the area.
The village is a demonstration of American life after the war. The freedoms won are acted-out each day by the re-enactors who work in the village.
At the entrance to the village are a gift shop and bookstore, both are recommended for browsing.

OLD STURBRIDGE VILLAGE

Old Sturbridge Village is an authentic re-creation of a rural 1830s New England community. Every detail of American life has been painstakingly researched to provide a unique experience for you and your family. Each historic building has been carefully restored. The furniture, tools, implements — even the farm animals and gardens — are all true to the period. And our historically-costumed staff demonstrate the daily life, work, and celebrations of early 19th-century New England...

(Village Marker)
---