---
WAYSIDE INN

SUDBURY, MASSACHUSETTS
---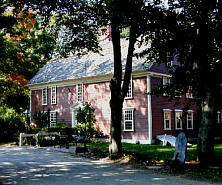 The Wayside Inn, which had its origin in 1683, has been a witness to history on the old Boston Post Road for over three hundred years. Initially a two-room dwelling, it has grown seven additions over the years.
As you enter the inn, the Old Bar Room is on the right. This room was one of the original rooms of the two-room house. It was a general room used for working, eating and cooking. In 1716, it began its transformation into a bar.
On the left is the parlor, which was added as part of the transformation by the tavern-owner, David Howe. The room was originally used for sleeping, but later took on its more formal, parlor look in later years. This is the room that was immortalized in Longfellow's Tales of a Wayside Inn:
Then all arose, and said "Good Night," Alone remained the drowsy Squire To rake the embers of the fire, And quench the waning parlour light.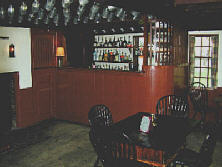 Prior to the Revolutionary War, the hearthside of the inn was a gathering place for farmers and merchants from the town of Sudbury to discuss the handling of the colonies by the British. In 1768, the people of the town voted to boycott British imports.
On April 19, 1775, Sudbury sent the largest contingent of 346 patriots to Concord to challenge a British attempt to seize colonial munitions. Among the patriots was Ezekiel Howe, landlord of the Black Horse Tavern (today's Wayside Inn). Also among the patriots was Colonel John Nixon, who would eventually rise to the rank of Brigadier General under George Washington.

Washington passed this place on his way to Cambridge to take command of the Patriot army, June-July 1775.

Erected by Old Essex Chapter S.A.R., Lynn Mass.

(Wayside Inn Marker)
---
Enroute to Wayland
George Washington Memorial Highway -
This tablet marks the George Washington Memorial Highway in Wayland, 1732 — 1932.

(Wayland Marker)
---