---
WESTFIELD

MASSACHUSETTS
---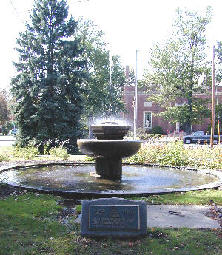 Westfield was established in 1669. At the center of town is a rotary, which revolves around a common. At the center of the common is a fountain where the town watering trough was.
On the south side of the common is a statue of Major General William Shepard. General Shepard, an eight-year veteran of the Revolutionary War, defended the Springfield Armory during Shays' Rebellion. The armory is an upcoming stop on this Revolutionary War road trip.
Across the street, at the northeast corner of the common is a Knox Trail marker. Knox arrived in Westfield about January 24, 1776. The whole town came out to greet him and marvel at the large cannons.
Having reached Westfield, Knox knew that his ordeal was nearing its end. Knox and his drivers were treated to a celebration by the town with good food, cider, ale and entertainment. In return, Knox treated the town to a small firing demonstration.

MAJOR GENERAL WILLIAM SHEPARD, 1737-1817

Captain - French and Indian War, 1754-1783; Member of Committee of Correspondence and Safety, Continental Line, engaged in XXII Battles, 1775-1783; Colonel and Brigadier General; Major General Massachusetts Militia subduing Shays' Rebellion; Representative in the General Court; State Senator; Governor's Councilor; Presidential Elector; Member of Congress; United State Commissioner to the Six Nations...

(Westfield Marker)
---
Enroute to West Springfield
Landlord Fowler Tavern -- The tavern was built about 1760. During the Revolution it was used to house German Hessians from Burgoyne's army on their way to prison in Boston. Near the tavern and the bridge is a marker indicating the former location of an Indian Fort and meetinghouse.
Approximate site of Indian Fort, and first meetinghouse, 1669.

W. H. H. S. 1903

(Westfield Marker)
---

Onto West Springfield, Massachusetts