---
COOCH'S BRIDGE

DELAWARE
---
About 700 American troops including a select group of 100 marksmen under General William Maxwell set up a classical ambush at Cooch's Bridge. Protected by the thick woods and heavy brush south of the bridge, the Americans waited for the lead forces of the British Army.
Battle of Cooch's Bridge

American light infantry and cavalry under General William Maxwell encountered the advance guard of British and Hessian troops under Generals Howe, Cornwallis and Knyphausen in this vicinity, September 3, 1777. American troops were expert marksmen drafted by General Washington from the several brigades of his army then encamped near Wilmington. Only battle of the American Revolution on Delaware soil and claimed to have been the first in which the stars and stripes were carried.

(Cooch's Bridge Marker)
The engagement began on August 30th about two miles south of the bridge. Using tactics learned from Native Americans, the Americans continually fired, moved and reloaded as they moved northward toward the bridge.
Finally, as they neared the bridge, the American forces, running out of ammunition, were able to hold the British for a couple onslaughts, but out-gunned and out-manned the Americans were forced to make a hasty retreat as the British better organized their attack.
American casualties numbered about 30. Casualties were reported lower by the British, but were likely higher considering the tactics and marksmanship of the American forces.
---
ENROUTE TO NEWARK
Old Baltimore Pike --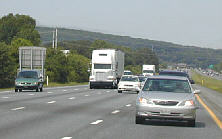 With American resistance at Cooch's Bridge cleared, the entire British Army assembled on this road to Philadelphia … with their scarlet coats, their bright guns and bayonets gleaming...
Interstate 95 -- Today's north-south route on the east coast of the United States. Thousands of cars pass through this area everyday on I-95 with Iron Hill clearly visible from the interstate. With so much history here, one wonders why there are no big brown historical markers on this super highway.
---