---
CHESNEE

SOUTH CAROLINA
---
Just north of the intersection of US Route 221 and Route 11 in downtown Chesnee is a marker for the Overmountain Victory National Historic Trail. The trail follows the route of assembly of the Patriot army, which decisively defeated the Loyalist army at the battle of Kings Mountain (an upcoming site on this road trip). The trail begins in Abingdon, Virginia, crosses the eastern tip of Tennessee, meets the Wilkes-Surry branch of the trail in Morganton, NC and passes through Chesnee, Cowpens and Gaffney in South Carolina.
Overmountain Victory National Historic Trail

(Chesnee Marker)
In the Backcountry, the Loyalist militia was formed under Major Patrick Ferguson, a competent leader, who was able to recruit and train the militia. Ferguson issued a proclamation stating that, if the Overmountain Patriots did not cease opposing crown forces, he would "hang their leaders and lay their country waste." This was a threat the Patriots could easily understand, and they reacted immediately. Word about the proclamation spread along the frontier and near the end of September 1780, about 1,000 Patriots from the Backcountry gathered at Sycamore Shoals (near Elizabethton, TN) under the command of Charles McDowell. Ferguson was forced to withdraw and the Overmountain Patriots pursued.
On September 27th, snow fell on Roan Mountain as McDowell's army crossed Yellow Mountain Gap, which is the highest point on the trail at 4,682 feet. Here, two men deserted to warn Ferguson of the approaching Patriot army, allowing him to escape and prepare a defensive position at Kings Mountain (an upcoming site on this road trip).
McDowell was not a popular leader and because of this, he was persuaded to step aside as commander. Colonel William Campbell, who was more popular with the Overmountain Men, was chosen to replace McDowell.
On October 4th, the Patriot army under William Campbell entered Gilbert Town (near Rutherfordton, NC) but found Ferguson had escaped. The Overmountain Men headed south towards the Ninety Six Outpost.
On October 6th, after learning that south was the wrong direction, the Patriots turned and headed east. It was late in the day on October 6th when the army passed through the Chesnee area and camped to the east at Cowpens.
Today, reenactors travel the Overmountain Victory National Historic Trail each year. Some march on foot; others travel the route by car.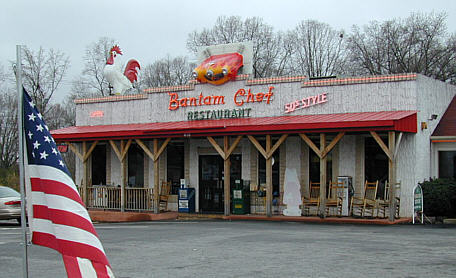 Breakfast in Chesnee — About a mile south of the Overmountain Route marker on US Route 221 is the Bantam Chef Restaurant. The restaurant is not only a great spot for a traditional southern breakfast but is also an old car museum. Watch for the front-end of a car on the sign.
---