---
POWHATAN

VIRGINIA
---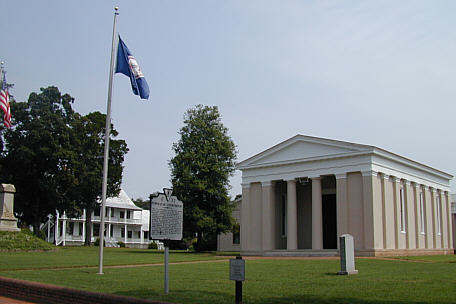 Powhatan Courthouse
The first courthouse was built here about 1783 and around it grew the village of Scottville. Named for the Revolutionary War hero, General Charles Scott, who was born in the area, the town eventually became known as Powhatan Court House. The present courthouse was designed by Alexander Jackson Davis, of New York, and built in 1840. It is a masterpiece of Greek revival architecture. The oldest building in the court square is the clerk's office built about 1798 and nearby is a late-18th-century double-galleried courthouse tavern. Part of the Confederate army retreating from Richmond, passed here on 4 April 1865.
(Powhatan Marker)
The town was named after the great Indian chief, Powhatan, father of the famous Indian princess, Pocahontas. However, during the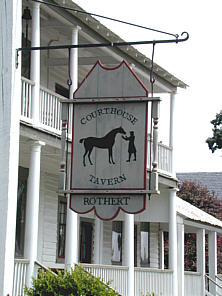 Revolutionary War, the town was known as Scottville (not to be confused with Scottsville, the previous site on this road trip).
As noted on the courthouse marker, General Charles Scott was born in this area. General Scott served throughout the war. At the Battle of Monmouth Courthouse in June 1778, Scott received conflicting and confusing orders from General Charles Lee. The orders ultimately led to an American retreat, but General George Washington, riding up and down the ranks, turned the troops back to the attack.
Washington, who was outraged, reviled Lee. General Scott said: "he swore … till the leaves shook on the trees … he swore like an angel from heaven."
The British eventually withdrew during the night and retreated back to the safety of British-held, New York City.

---
Enroute to Richmond
Anna Maria Lane Marker -- As noted by the marker, Anna Maria Lane disguised herself and served as a soldier in the Revolutionary War with her husband, John Lane.
Anna Maria Lane
Soldier of the American Revolution

Near the Bell Tower in Capitol Square stood the barracks of the Public Guard. There, from 1801 to 1807, lived John Lane and his wife, Anna Maria Lane, the only documented woman veteran of the Revolutionary War to reside in Virginia. She disguised herself and enlisted with her husband in the Connecticut Continental Line. "In the garb, and with the courage of a soldier, (she) performed extraordinary military services," and was wounded at Germantown, Pa., in 1777. She followed Lane through his subsequent service in the Virginia light dragoons, and then, after the war, to the Public Guard. Granted a pension in 1808, she died on 13 June 1810.

Department of Historic Resources, 1997.

(Richmond Marker)
---