---
UNIVERSITY OF VIRGINIA

CHARLOTTESVILLE, VIRGINIA
---
James Monroe's First Farm

Site of the University of Virginia

In 1788 James Monroe purchased an 800-acre farm here to be close to his friend Thomas Jefferson and to establish a law office. In 1799 the Monroes moved to their new Highland plantation adjacent to Monticello and sold the first farm. In 1817 the Board of Visitors of Central College purchased 43 3/4 acres of Monroe's old farm, for the Lawn and the Ranges of the "academical village" that Jefferson was planning to build with private contributions. On 6 October, President Monroe, with former presidents Jefferson and Madison, laid the cornerstone for its first building, Pavilion VII. On 25 January 1819, Central College was charted by the General Assembly as the University of Virginia.

(UVA Marker)

The University of Virginia stands on land purchased in 1788 by a Revolutionary War veteran, James Monroe, who would become the fifth President of the United States thirty years later. As an eighteen-year-old Lieutenant, Monroe served with George Washington at the Battle of Trenton and was wounded while leading a charge that would help achieve a crucial victory for General George Washington.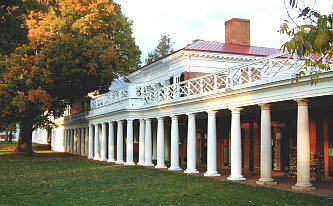 Later, while Monroe served as President, Thomas Jefferson, the author of the Declaration of Independence and Governor of Virginia during the four British invasions of Virginia, turned Monroe's farm land into an "academical village." After Jefferson completed his term as the third president of the United States, he began construction of the University of Virginia in 1817. He surveyed the site himself using a theodolite, locust stakes and twine. The university was founded by the state in 1819 and the Academical Village was completed, except for the Rotunda, by 1823. Classes began in 1825.
In creating the University, Jefferson brought together his interests and talents in architecture, education and gardening. A walk around the old campus reveals his design, which included a rectangular, terraced green space called the Lawn, two parallel rows of buildings, pavilions, colonnaded walkways and the Rotunda.
His innovative model kept students and faculty close. They lived, worked, dined and studied within steps of each other. He hoped that the closeness would spark the intellectual life of the academic community.
Today, the University has spread out significantly with almost 20,000 students, ten degree-granting schools and about 2,000 full-time faculty members. But despite its size, a visit to the Academical Village, the old campus and center of the University, makes it clear that Jefferson's vision still remains the focus of the University.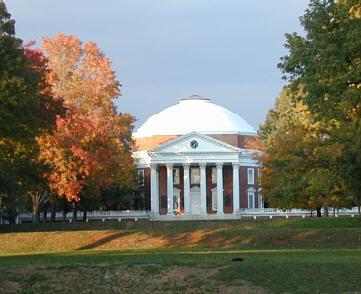 ---
Enroute to Downtown Charlottesville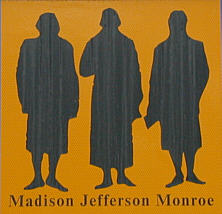 Silhouettes of Three Presidents -- Watch for a marker with silhouettes of the three presidents from the Charlottesville area: Madison, Jefferson and Monroe. Jefferson and Monroe's homes are upcoming sites on this road trip. Madison's home is 27 miles north of Charlottesville in Montpelier Station.
Madison was the fourth president of the United States and a close friend to Thomas Jefferson. During the Revolutionary War, Madison served in the Continental Congress. Later, he served in the Constitutional Convention and became known as "the Father of the Constitution."
Breakfast in Charlottesville -- The Inn is a great local restaurant and is a recommended stop for breakfast southernstyle.
---