---
CLAVERACK

NEW YORK
---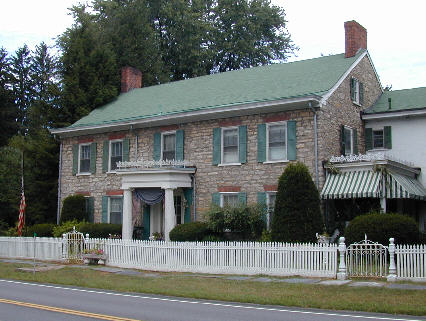 As the Court House marker indicates, Alexander Hamilton and Aaron Burr tried cases here. Before they were trying cases, both were veterans of the American Revolution.
First Court House

Erected 1788, Alexander Hamilton, Aaron Burr, other prominent lawyers tried cases here. Martin Van Buren admitted to bar here. Court moved to Hudson in 1805.

Columbia County Grangers 1960.

(Claverack Marker)
Alexander Hamilton formed an artillery company in 1775. He served under George Washington and in March 1777, at the age of 20, he became George Washington's Aide-de-Camp. After the Revolution, Hamilton helped lead the efforts to create a constitutional convention and served as the first Secretary of the Treasury under President Washington.
During the Revolution, Aaron Burr was with Benedict Arnold during an attempted invasion of Canada. He also wintered with Washington at Valley Forge. Later in races for President of the United States and Governor of New York, Aaron Burr was defeated, in part due to the efforts of Alexander Hamilton, which led to a growing hatred for each other. This eventually led to the famous gun duel in 1804 in which Hamilton was killed.
Washington Seminary

Early Columbia County school established here 1779. Later became Claverack College and Hudson River Institute until its closing in 1902.

(Claverack Marker)
---
ENROUTE TO KINDERHOOK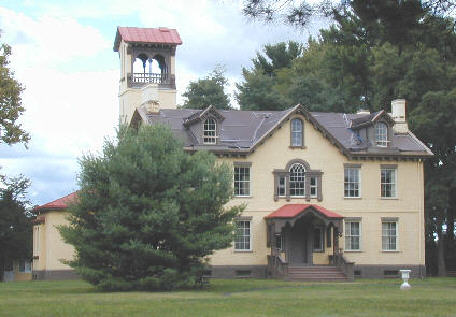 Home of Martin Van Buren -- Eighth president of the United States. Van Buren was born at the end of the Revolution in 1782 in Kinderhook. There are several markers about Martin Van Buren and his home, Lindenwald. Missing from the markers is the legendary roots of the term "OK." Apparently, Van Buren signed off his documents with "OK," referring to "Old Kinderhook." Lindenwald is a recommended stop on a longer visit to the area.
Martin Van Buren
National Park Service
Department of Interior

In 1782, six years after the English colonies in North America declared independence from the British Crown, Martin Van Buren was born to a successful tavern owner and his wife in the village of Kinderhook, NY. At the age of 14 he apprenticed with a local attorney and was admitted to the bar in November 1803.

As a lawyer, Van Buren became familiar with politicians and the issues of the day and was soon involved in Columbia County politics, winning his first election in 1807. He progressed to the state senate from 1812-21, voting to support the War of 1812, working to extend voting rights, rewriting the state constitution and abolishing debtors' prisons. In the U.S. Senate from 1821-1828, he favored a strict interpretation of the Constitution, urging that Congress not finance internal improvements such as roads and canals. Van Buren befriended Andrew Jackson and campaigned for him in 1828. In turn, President Jackson requested Van Buren's assistance as Secretary of State, appointed him Minister to Great Britain and ran with him as his Vice Presidential candidate for the second term.

During the Van Buren Administration (1837-41), the Independent Treasury system brought order to the national economy while his foreign policy avoided war with Mexico. Failing reelection in 1840, Martin Van Buren retired to Lindenwald to be near lifelong friends and establish a large farm. On July 24, 1862, the country's flags flew at half-mast upon the death of Martin Van Buren. In and around Kinderhook the people of Columbia County mourned the loss of "… an old neighbor, a kind friend, and a very esteemed citizen."

(Lindenwald Marker)
Van Alen House -- Just past Kinderhook Toyota is the Van Alen house on the left. The Van Alen house is a restored Dutch farmhouse, furnished with 18th century Dutch furniture. It was built in 1737 by Luykas Van Alen although the marker indicates a year earlier. Van Alen was a wealthy farmer and merchant. The house is open to visitors, Thursday-Saturday from 11AM-5PM, Sunday from 1-5PM.
Van Alen Homestead

Erected in 1736, Katrina Van Tassel resided in this house according to tradition.

State Education Department

(Kinderhook Marker)
Post Road Marker.
Post Road—1772
Albany to New York.

Weekly mail service established on horseback. Passenger service by covered wagons and four horses in 1786.

State Education Department

(Kinderhook Marker)
---