---
CLERMONT

NEW YORK
---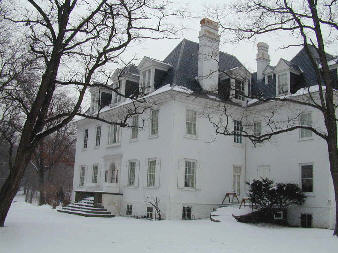 Although Clermont is quiet and small today, in the 18th century, it was a center of political and social activity led by the prominent Livingston family.
Livingston Manor — The Clermont estate was established here in 1728 and remained in the family for seven successive generations — 230 years.
In October 1777, Major John Vaughan came to Clermont and burned Livingston's home because of his prominent role in support of independence. Margaret Beekman Livingston rebuilt the family home between 1779 and 1782. This was the furthest north that Clinton's 1777 invasion from New York City reached.
Robert R. Livingston, son of Judge Robert R. Livingston and Margaret Beekman served with Thomas Jefferson as a member of the committee that drafted the Declaration of Independence. He took office as Secretary of Foreign Affairs in 1781 after it took Congress over nine months to select a candidate for the position.
Robert R. Livingston
Born 1746 — Died 1813

Recorder of New York, 1773-1775, Member of Continental Congress, 1775-77, 1779-81, 1784-85, On committee of five which drafted Declaration of Independence, Member of Provincial Congress, 1775-77, Chancellor of New York, 1777-1801, Secretary of Foreign Affairs, 1781-1783, Minister to France, 1801-04, Negotiator of Louisiana Purchase, Administered Oath to George Washington as first President of United States, 1789, Shared with Robert Fulton invention of steamboat and its navigation, Grand Master of Grand Lodge of Free and Accepted Masons of New York State, 1784-1801.

Erected by Masonic Lodges of 2nd Columbia-Dutchess District and State of New York

(Clermont Marker)
Chancellor Livingston concluded his public career as Thomas Jefferson's Minister to France between 1801 and 1804.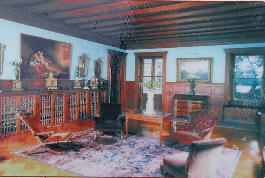 While in Paris, he negotiated the Louisiana Purchase and entered into a partnership with Robert Fulton, a Pennsylvania-born painter and inventor who shared Livingston's fascination with steam navigation. Their creation, which they called the North River, is known to history as the Clermont. Their steamboat embarked on its maiden voyage between New York City and Albany in 1807, setting off a transportation revolution in the United States.
Today, the visitor center and mansion are open between mid April and Labor Day — Wednesday thru Saturdays from 10AM until 5PM and Sundays Noon until 5PM. From Labor Day until the end of October — Wednesdays thru Sundays Noon until 5PM. The visitor center and mansion are also open on Monday holidays during the season from 10AM until 5PM.
Clermont Village — A marker indicates the spot where Clermont had one of the first post offices in the United States.
Clermont Post-Office

Established in 1791, one of the first hundred post-offices in the U. S.

State Education Department

(Clermont Marker)
A marker that indicates that Clermont had one of the first public schools.
New York's First Public School

Was established at Clermont in 1791.

State Education Department

(Clermont Marker)
Although Clermont is tiny, a marker at the old academy notes that it is very big in history.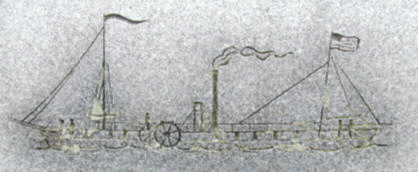 Clermont
Since and prior to its incorporation in 1788, Clermont has played a significant role in the history of America. Clermont's history includes home of Robert R. Livingston, negotiator of the Louisiana Purchase and a drafter of the Declaration of Independence. Birthplace of Philip Livingston, a signer of the Declaration of Independence. Home of Edward Livingston, Secretary of State under Jackson. Site of the first public school and one of the first 100 post offices in 1791. Home of the academy in 1834 and the first agricultural fair in 1819. Home of the first steamboat, the Clermont, built by Robert Fulton in 1807 and backed by R.R. Livingston with pride in Clermont's History and hope and expectation.
For the future, we the Livingston Manor Grange, established 1905, dedicate this monument, July 17, 1976.
(Clermont Marker)
Upper Red Hook — In October of 1777, General Putnam made Upper Red Hook, just south of Clermont off US Route 9, his temporary headquarters while he shadowed the British invasion up the Hudson from New York City. There is a marker at the house that was his headquarters.
Old Red Brick Tavern

Known in 1789 as the Thomas House; headquarters in 1777 of General Putnam.

State Education Department 1932

(Upper Red Hook Marker)
When Putnam received word that Burgoyne had surrendered to Gates at Saratoga, ending the British invasion from Canada, he sent a dispatch from Red Hook to General Washington informing him of the victory. Gates, who had desires to replace Washington as Commander-in-Chief, delivered his victory dispatch to Congress.
---
ENROUTE TO LIVINGSTON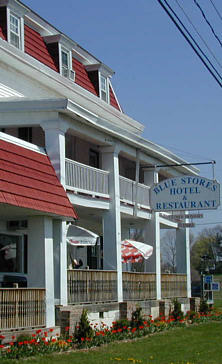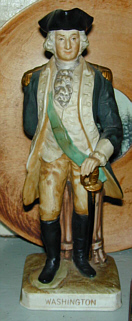 Blue Stores Hotel and Restaurant -- Today, the building is red and white, but blue lettering can be found on the sign. Inside, antiques are a part of the restaurant décor and can be seen standing, mounted and hanging everywhere.
On weekends, the restaurant is a recommended stop for lunch. On a longer visit to the area, it's a recommended stop for dinner.
The town of Blue Store is a colonial crossroad. It marks the location of the crossing point between the Albany-New York Post Road and the Highland Turnpike.

---