---
COLD SPRING

NEW YORK
---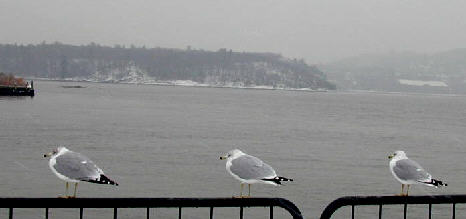 At the end of Main Street, there is a small park on the Hudson River near the Hudson House River Inn. From the park, you get a nice view of Constitution Island.
At the end of Market Street, there is a commuter parking lot near the train station. There is a small park accessible from the commuter lot that affords a closer view of Constitution Island.
Warner Sisters

View to Constitution Island preserved by authors Susan Warner & Anna Warner who wrote the hymn "Jesus Loves Me." C. 1818-1915.

George E. Pataki, Governor

(Cold Spring Marker)
Constitution Island, which is just north of West Point, played an important role in the defense of the Hudson River and the Highlands on either side. Today, Amtrak cuts access to the island making it only accessible by water.
Constitution Island
In 1775, the first American patriots occupied Martelaer's Rock and soon renamed it Constitution Island after the British Constitution. In 1775, the Americans built Roman's battery on the island. This was the first fortification in the West Point area. By the end of 1776, they also built Marine Battery, Hillcliff battery and Gravel Hill Battery. In 1777, the British destroyed these positions.
In 1778 and 1779, the Americans partially rebuilt Marine Battery, completely rebuilt Gravel Hill Battery, and constructed three interior redoubts to protect the river batteries from attack from the north. These fortifications added depth to the West Point defensive zone.
In 1778, the great chain was anchored at Constitution Island in the cove below Marine Battery.
(West Point Marker)
---
ENROUTE TO FISHKILL
Town of Beacon -- Watch for the George Washington statue. Across the river is Newburgh, home of George Washington's Headquarters during the defense of the Highlands.
In honor of the bicentennial of the death of George Washington, who visited the nearby Madam Brett Homestead during the American Revolution.

Erected 1999 by members and friends of Melzingah Chapter, NSDAR.

(Beacon Marker)
---