---
POUGHKEEPSIE

NEW YORK
---
The Glebe House

Built in 1767 by members of the Church of England in Dutchess County for their ministers.

State Education Department 1935

(Poughkeepsie Marker)
Glebe House, circa 1767 — The house was built as a parsonage for the Anglican Church. It was home to Rev. John Beardsley of Trinity Church in Fishkill and Christ Church in Poughkeepsie. Beardsley was exiled to Canada during the Revolution for his loyalist sympathies. After the exile, the home was used by Continental Army officers.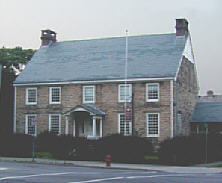 Clinton House, circa 1765 — During the Revolution, the house was often used by New York Governor George Clinton during visits to the Poughkeepsie area. Today, the Clinton House is administered by the Dutchess County Historical Society. In the house, exhibits present the history of Dutchess County.
Poughkeepsie Harbor — On December 13, 1775, Congress authorized the construction of two frigates on the Hudson in Poughkeepsie, the Montgomery and the Congress. Completed in November of 1776, the Congress weighed 682 tons and was rated at 28 guns with a deck length of 126 feet. The Montgomery weighed 563 tons and was rated at 24 guns with a deck length of 119 feet. In July of 1777, the two ships were sent down the Hudson to bolster the defenses at the first chain, which crossed the Hudson near Fort Montgomery on the west side of the Hudson. Although rated higher, the Montgomery carried only 8 12-pounder cannons and the Congress carried 9 9-pounder cannons. In October 1777, the ships were unable to stop a British attack on Fort Montgomery because the British chose to attack overland. After the British took Fort Montgomery, the two ships did not escape and both were set on fire to prevent them from falling into enemy hands, thus concluding a very short history for both ships. However, they both helped to keep Clinton cautious about a major invasion up the Hudson from New York City.
---