---
RED HOOK

NEW YORK
---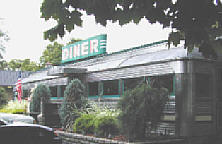 There is a marker in front of the Silk City Diner identifying it as the first diner in New York State and the fourth in the country. Inside, it has the classic coach style with a counter and booths. The food is great and there is always a list of specials. The historic diner is a recommended stop on a longer visit to the area.
Elmendorph Inn — Just after the end of the American Revolution, the inn became a stagecoach stop on the Albany-New York Post Road. No doubt, the inn and the diner provide evidence that Red Hook has been extending its hospitality to visitors for over 200 years.

Elmendorph Inn

Circa 1760. Stagecoach stop by 1785. Hosted town meetings, 1813, and 1st county fair, 1817. Now a community center.

Sign Donated by Junior Friends

(Red Hook Marker)
Van Ness House — During the Revolution, many patriots from Red Hook stepped forward to participate in the Continental Army and the local militia. David Van Ness was a Revolutionary War Officer Another prominent figure during the Revolution was Egbert Benson. Benson had attended Kings College with fellow classmates Robert Livingston, John Jay and Alexander Hamilton. In Red Hook, Benson was the leader of the local militia and was responsible for recruiting soldiers for the Continental Army.
David Van Ness

Built brick house here before 1797, was captain during Revolution, General of State Militia, State Senator and Presidential Elector, 1812.

State Education Department

(Red Hook Marker)
---
ENROUTE TO CLERMONT
Montgomery Place -- The original house at Montgomery Place was destroyed by the British after the burning of Kingston during the 1777 invasion from New York City. Janet Livingston Montgomery, widow of General Richard Montgomery, built the current home in 1804.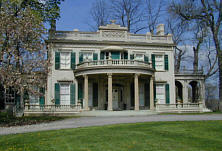 General Montgomery was one of the first generals commissioned in the Continental Army. He served under Philip Schuyler, the commander of the Northern Department of the Continental Army, in a 1775 expedition against British-held Quebec. When Schuyler became ill, Montgomery took command of the expedition and was killed leading a winter assault against the well-defended fortress of Quebec.
Janet Livingston Montgomery was the sister of Chancellor Robert Livingston of Clermont. The Livingston Homestead, "Clermont," is the next stop on our Revolutionary War road trip.
Montgomery Place is a recommended stop on a longer visit to the area.
Red Church -- The church, established in 1766, was a witness to the British invasion but was spared. It's likely, however, that if the British knew the church's ties to the Livingston family, the church would have been burned to the ground.
Germantown -- The town has many historical sites including a parsonage that dates back to the 1740's. A visit to Germantown is recommended on a longer visit to the area.
Parsonage

Of First Reformed Church of Germantown, erected in 1746.

State Education Department 1932

(Germantown Marker)
---