---
RHINEBECK

NEW YORK
---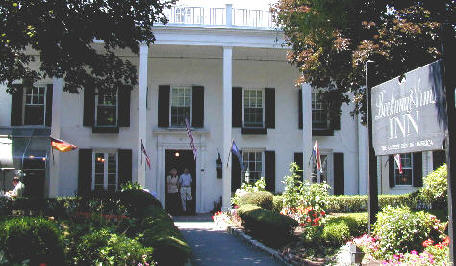 During the Revolution, Rhinebeck, a part of the "Breadbasket of Dutchess County," provided badly needed flour and grain to the American troops who were stationed in the Highlands to the south. In all, Dutchess County provided about one-third of all the grain consumed by the Americans.
Beekman Arms
"America's Oldest Inn"
Landlords

William Traphagen — 1766-1769
Everadus Bogardus — 1769-1802
Asa Potter — 1802-1805
William Jacques — 1805-1835
Mrs. Jaqucs — 1835-1837
Jacob H. Tremper — 1837-1840
Robert T. Seymour — 1840-1852
O.V. Doty — 1853-1855
Frederick Sipperly — 1855-1857
Edward Pultz — 1857-1858
Hunting Germond — 1858-1860
Burnett Conkling — 1860-1862
Jas. N. McElroy — 1862-1864
Griffin Hoffman — 1864-1873
Tremper Brothers — 1873-1884
Lorenzo Decker — 1884-1891
Edward Lasher — 1891-1893
E.M. Vanderburgh — 1893-1894
Vernon D. Lake — 1894-1906
Halleek Welles — 1906-1907
Arthur Shuffle — 1907-1914
Wallace W. Foster — 1914-1926
Beckman Arms, Inc. — 1926-1930
Lewis F. Winne — 1930-1950
Kenneth Arnold — 1950-1952
Howard Hohl — 1952-1953
Walter Harter — 1954-1958
Charles LaForge, Jr. — 1958-

(Beekman Arms Marker)
In June 1775, Henry Beekman Livingston formed a company of local militia. The company drilled on the lawn of the Bogardus Tavern, today's Beekman Arms, the oldest, still active tavern in America. In August, General George Washington came to inspect the company and the area's defenses. Washington had just been appointed commander of the Continental Army and he suspected that the British would try to control the Hudson valley. Legend has it that he stayed at the Bogardus Tavern.
Bogardus Land

Training ground of Revolutionary Forces. Formerly belonged to William Traphagen, founder of village of Rhinebeck.

State Education Department 1932

(Rhinebeck Marker)
---
ENROUTE TO RED HOOK
The Evangelical Lutheran Church of St. Peter the Apostle known for more than a century as the Stone Church within its walls stood the first church built in 1730 by the Palatine settlers to whose memory this tablet is erected by Chancellor Livingston Chapter Daughters of the American Revolution and the state of New York 1925.

(Church Marker)
---