---
WAYLAND

MASSACHUSETTS
---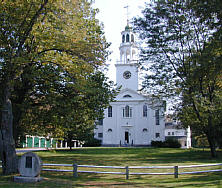 At one time, Wayland was an important stage coach stop on the way to Boston. The evidence of its importance can be found at a couple places: the George Washington Memorial Highway marker and at the old Grout-Heard house.
The memorial highway marker is similar to the one outside Palmer. It is placed in memory of George Washington's route to command the Continental Army.
The marker near the Grout-Heard house is a short distance up Route 126. Near the house is a directional marker indicating the way to Boston at a split in the road.
The other road goes to Concord. In 1775, the call to Concord was strong in Wayland, as it was in Sudbury. Today, the call to Concord is also strong for any traveler on a Revolutionary War road trip. To answer the call, the remaining part of the road trip detours from US Route 20 and heads to Concord to take Paul Revere's Route into Boston..
The Grout-Heard House

Circa 1740

(Wayland Marker)
---
Enroute to Concord
Walden Pond -- Walden Pond is where the writer, Henry David Thoreau, built his cabin. He lived and wrote at the cabin during the mid-1800's. He built the cabin "to front only the essential facts of life."
Walden Pond State Reservation

Established 1922

To preserve the Walden of Emerson and Thoreau about eighty acres of land were given the commonwealth by deeds from Edith Forbes et. al. and C. Fay Heywood et. al. Other purposes of the gift were to allow the public to enjoy the woods and nature including bathing, boating and fishing...

(Walden Pond Marker)
---