---
STILLWATER

NEW YORK
---
Ferry Lane
October 17, 1777, Burgoyne's Brunswick troops marched through this lane to Vandenburgh Ferry and prison camp at Cambridge, Massachusetts.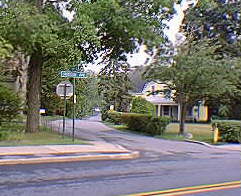 Ferry Lane – As you near the center of Stillwater, you will pass Ferry Lane on the left. There is a marker at the entrance. This is the road that Burgoyne's forces marched on their way to a Boston prison camp.
Dirck Swart House

Headquarters, August 3-14, 1777 of General Philip Schuyler. Arnold marched from here to the relief of Fort Stanwix.
Schuyler's Headquarters – Just a little further up US Route 4 is the Dirck Swart House. There is a marker near this privately owned home. As Schuyler's Headquarters, this home was once the Headquarters of the Northern Department of the Continental Army.
Prior to Saratoga, Benedict Arnold was dispatched from this house to put a stop to the British advance on Albany from the west. Burgoyne had hoped that the British would capture Albany from three directions, north, south and west. Stillwater was as close as they got from the north, Kingston from the south and Fort Stanwix from the west. The advance from the west began at Fort Ontario and was stalled at Fort Stanwix. Fortunately, the size of Arnold's forces was greatly amplified by the poor communication systems of the day. The British forces withdrew and Arnold returned.
Montressor's Blockhouse
and Storehouse Barracks, 1758

Fort Winslow, 1756

Schuyler's Supply Depot, 1777
Across from the Dirck Swart House is General Schuyler Lane. At this intersection, there is a marker listing the many historical sites that were once here, including Schuyler's supply depot.
| | |
| --- | --- |
| | But Stillwater is proud of the fact (though deprived of the name) that here was purchased the liberty which shall endure when monuments have crumbled. |
Stillwater Blockhouse – Continuing down US Route 4, you will come to a blockhouse in the river park near the Hudson River. A marker on the blockhouse is a lamentation that the people of Stillwater have always had about their place in history. Saratoga Springs is mistakenly thought of as the place where the Battles of Saratoga took place. Yet, Saratoga Springs is over ten miles from Stillwater, where the battles did take place.
Hermanus Schuyler Mansion

Washington, Schuyler and Clinton were entertained here in 1783.
Schuyler Mansions – Just past the blockhouse is a Knox Trail marker and two markers that identify Schuyler homes. At the Hermanus Schuyler Mansion, George Washington was entertained during his inspection of the area near the end of the Revolutionary War. He also visited the Smythe House at Fort Edward during the same time period. Governor George Clinton and General Philip Schuyler accompanied Washington during his inspection.
---
Enroute to Waterford, NY
Mechanicville Intersection with NY 67. 25 Miles to the east is the site of the Battle of Bennington. The Bennington battlefield is a site on the Revolutionary War Road Trip on US Route 7.
---