---
RICHMOND

VIRGINIA
---
After becoming Governor of the State of Virginia, Thomas Jefferson and the Virginia General Assembly moved the state capital from Williamsburg to Richmond. They wanted the capital more centrally located and less exposed to British incursions.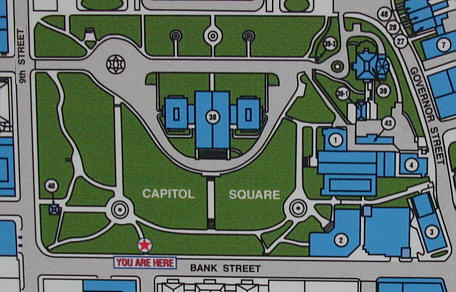 However, on January 4, 1781 during the second British invasion of Virginia, Benedict Arnold reached Richmond with about 1,000 men. The militia had, for the most part, abandoned the few defensive positions around the capital leaving it open to the British. Prior to Arnold's arrival, the Virginia government had moved to the safety of Charlottesville.
From Richmond, Arnold sent a letter to Governor Jefferson offering to spare the capital if he was allowed to seize tobacco unmolested. After Jefferson, refused, Arnold ransacked the city, destroying and burning homes and buildings as well as Government papers.
After Arnold's destructive raid, he withdrew from the city and set-up defensive positions in Portsmouth.
Annoyed by Arnold's raid in his home state, General George Washington sent Lafayette to Virginia to put a stop to Arnold's destruction and hopefully capture the traitor, who was now spilling American blood.
Lafayette arrived here in Richmond on April 29th, just in time to prevent a second attack on Richmond. Arnold and General Phillips had combined forces and attacked Petersburg to the south of Richmond. Petersburg was defended by Virginia militiamen under the command of Col. J. P. E. Mullenburg. The militia held off the British for the better part of a day, but eventually retreated after being beaten by British artillery and a flanking movement.
Cornwallis arrived in Petersburg about a month later and took command of all British forces in Virginia. After he arrived, Arnold left his command and returned to New York City. General Phillips' forces had already lost their commander to typhoid fever. He died in Petersburg.
Cornwallis, not really interested in Richmond, headed towards Williamsburg and Yorktown. He hoped to establish a strong base that could be supplied by sea.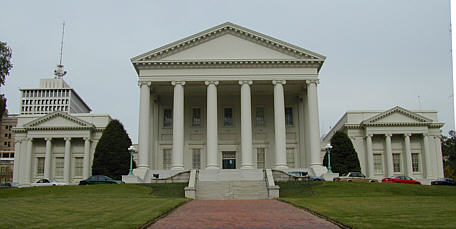 State Capitol—Today, a visit to Richmond should begin in Capital Square at the state capitol, which was designed by Thomas Jefferson two years after the end of the Revolutionary War. He modeled it after the Maison Carrée, a Roman temple in Nimes, France. Inside, in the Rotunda, is a life size statue of George Washington. The statue was created by Jean Antoine Howdon, for which George Washington actually posed.
The Virginia General Assembly, which still meets here, is the oldest legislative body in America. In one of their meeting rooms is a mural depiction of the "Siege of Redoubt 10" (Redoubt 10 is an upcoming site on this road trip). The siege was led by Alexander Hamilton during the battle of Yorktown.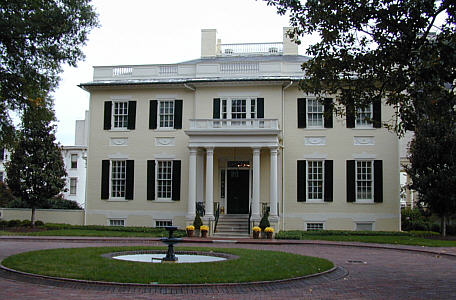 Executive Mansion
On this site lived three presidents of the United States, Monroe and Tyler as governors, and William Henry Harrison while his father, Benjamin Harrison, signer of the Declaration of Independence, was governor. The first white house on this site was also home to Governor Patrick Henry and Henry Lee, father of Robert E. Lee.
This present house, first occupied by Governor James Barbour in 1813, was designed by Alexander Parris and built by Christopher Tompkins. As the home of Virginia's chief executives since that date, it is the oldest continuously occupied official governor's residence in the nation.
In 1989, the exterior of the mansion was restored to its circa 1830 appearance under the direction of the Citizens' Advisory Council for Interpreting and Furnishing the Executive Mansion.
(Richmond Marker)
Virginia Executive Mansion - On this site was the home of Patrick Henry. Henry gave the famous "Liberty or Death" speech at St. John's Church (an upcoming site on this visit to Richmond).
The current governor's mansion was completed in 1814. It is America's oldest, continuously occupied, Governor's mansion.
The Residence of John Marshall

Chief Justice of the United States. Born 1755, died 1835.

Placed by the Association for the Preservation of Virginia Antiquities, 1907.

(Richmond Marker)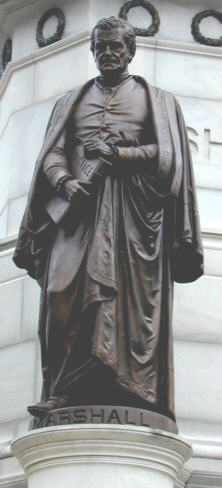 John Marshall House — John Marshall was a Revolutionary War veteran. He began service as a lieutenant and briefly sparred with Benedict Arnold in Virginia. He fought in the battles of Brandywine, Germantown, Monmouth and Stony Point.
At Stony Point, Marshall participated in a daring assault performed at night with bayonets only — no loaded weapons. The successful attack was led by General "Mad" Anthony Wayne. A month later, Major Henry Lee and Captain John Marshall led a similar raid against Poules Hook, a fortified position opposite New York City on the Hudson River. They successfully captured the position and took several hundred prisoners as well as military spoils.
After the war, Marshall served the State of Virginia as an assembly member, a delegate to the convention that ratified the Constitution and a congressman. He was Secretary of State under President John Adams and became the "Great Chief Justice" of the U.S. Supreme Court from 1801 until his death in 1835. While serving as chief justice, Marshall wrote a five-volume biography of his friend, George Washington.
Saint John's Episcopal Church

Here on 23 March 1775, Patrick Henry delivered his "Liberty or Death" speech, calling for American Independence, during the second Virginia revolutionary convention that included as members: George Washington, Thomas Jefferson, Peyton Randolph, and Richard Henry Lee. Saint John's Church was built in 1741 by Richard Randolph on land donated by Richmond's founder, William Byrd II. It continues to serve Henrico Parish (founded 1611). Buried in its churchyard are George Wythe and Elizabeth Arnold Poe, mother of Edgar Allan Poe.

Department of Historic Resources, 1991.

(Richmond Marker)
Saint John's Episcopal Church —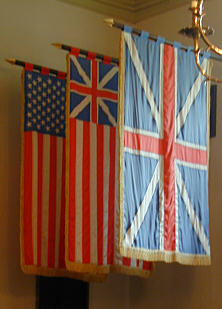 St. John's Church was built in 1741 on land donated by William Byrd II and is still an active Episcopal Church.
The Second Virginia Convention was held in St. John's during the week of March 20, 1775. The convention was held here because the current royal governor of Virginia, Lord Dunmore, was unable to maintain control over the Virginia Assembly and suspended it. Among the delegates was the great orator, Patrick Henry.
Henry embodied the spirit of American courage and patriotism. He is recognized today, as he was among his contemporaries, as the orator of liberty. His compelling speeches kindled the fires of the Revolution and fueled the effort to secure freedom.
Henry's was the first voice raised against England in its attempt to impose taxation without representation. He rose to his full stature in attacking the infamous Stamp Act, which was hotly debated at the House of Burgesses in Williamsburg in 1765. The other delegates shouted in support when Henry hurled defiance at George III with the challenge, "If this be treason, make the most of it."
During the Second Virginia Convention, his most famous speech was delivered in 1775 at St. John's Church in Richmond. His words became the clarion call that led the colonies into the Revolution. With courage and eloquence, he declared: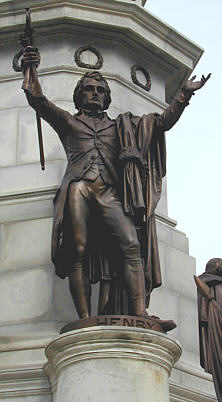 "Gentlemen may cry peace, peace, but there is no peace. The war is actually begun! The next gale that sweeps from the north will bring to our ears the clash of resounding arms. Our brethren are already in the field! Why stand we here idle?"
"What is it that gentlemen wish? What would they have? Is life so dear or peace so sweet as to be purchased at the price of chains and slavery? Forbid it, Almighty God -- I know not what course others may take; but as for me -- give me liberty, or give me death!"
Henry's leadership did not end once the Revolution was won. Perhaps his greatest contribution to the nation was in working toward the adoption of the Bill of Rights. While desiring a more effective federal government, he was adamant in demanding protection of basic individual civil liberties.
The first American governor of Virginia, Henry served five exhausting terms. In 1794, he retired to his last home and burial place, Red Hill, near Lynchburg, Virginia.
Today, St. John's is open for guided tours seven days a week, except on Easter Sunday, Thanksgiving Day, Christmas Eve, Christmas, New Year's Eve and New Years Day. The tours are held from 10 AM until 3:30 PM Monday through Saturday and 1 PM until 3:30 PM on Sunday. A donation is requested of all taking the guided tour.
Reenactments of the Second Virginia Convention are held every Sunday afternoon promptly at 2 PM, beginning the last Sunday in May and continuing through the first Sunday in September. A commemorative reenactment is held on the Sunday that falls closest to March 23.
This tablet is dedicated to mark the site where lie the mortal remains of George Wythe. Born 1726. Died 1806. Jurist and statesman. Teacher of Randolph, Jefferson and Marshall. First professor of law in the United States. First Virginia signer of the Declaration of Independence.
Erected by Patriotic Citizens of Virginia, A.D. 1922.
(Richmond Marker)
---
Enroute to St. Peter's Church
White House Marker --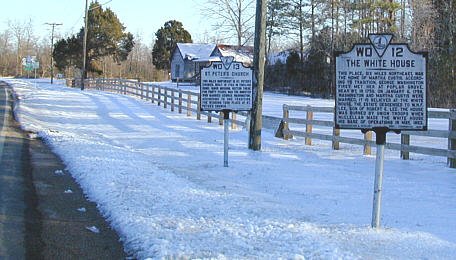 The White House
This place, six miles northeast, was the home of Martha Custis. According to tradition, George Washington first met her at Poplar Grove, near by, in 1758. On January 6, 1759, Washington and Martha Custis were married, it is believed at the White House. The estate descended to W. H. F. Lee, son of Robert E. Lee. The house was burned by Union Troops when McClellan made the White House his base of operations in May 1862.
Conservation & Development Commission 1930.
(Route 30 Marker)
---