---
MANCHESTER

VERMONT
---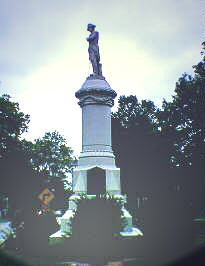 In the center of Manchester is a veterans memorial. At the top of the memorial is a statue of a Green Mountain Boy. Across the street from the memorial is The Equinox, one of Vermont's best and largest resort hotels. Just up the street is an eighteenth century tavern, Ye Old Tavern, c.1790.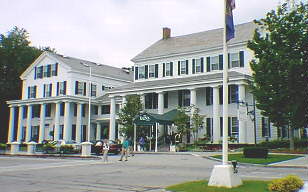 Manchester was a revolutionary crossroad in 1775 and 1777. Around May 6, 1775, it was visited by the patriot forces consisting of:
Edward Mott and about 16 volunteers from Connecticut.
James Easton, John Brown and about 40 volunteers from the Berkshires.
Ethan Allen, Seth Warner and about 200 Green Mountain Boys.
They marched through Manchester on their way to Castleton to make plans for the capture of Fort Ticonderoga.
On July 9, 1777, Manchester was a much different kind of revolutionary crossroad. About 2,500 retreating Americans under the command of Major General Arthur St. Clair passed through Manchester on a long circuitous route that began at Fort Ticonderoga on July 5th. The retreat started after superior British forces began moving artillery up nearby Mount Defiance. The Americans crossed Lake Champlain to Mount Independence on a floating bridge, then destroyed the bridge after crossing. They evacuated Mount Independence and traveled down the military road through Hubbardton. There, a pursuing British detachment was halted by American forces. The rest of the Americans continued their retreat through Castleton then east (along today's US Route 4) to Rutland so they would avoid meeting the British at Skenesborough (today's Whitehall). They marched south (along today's Route 7A) to Manchester, then trekked southwest, paralleling the Battenkill River, to Fort Miller. This completed a journey of about 100 miles.
They arrived at Fort Miller on July 12th, hungry, exhausted, poorly clothed and totally disorganized. Under the leadership of General Philip Schuyler, they recovered, moved south to Saratoga, regrouped, reorganized and began preparation to meet the British forces moving south from Skenesborough. About a month later, Burgoyne arrived at Fort Miller with British forces numbering about 8,000. Shortly after their arrival, Burgoyne launched the fateful expedition to Bennington to obtain horses and supplies. On September 13th, Burgoyne would leave Fort Miller to be defeated by an American Army that was approaching 20,000 at the Battles of Saratoga. This was the "turning point" of the American Revolution. After the Battle of Hubbardton, Seth Warner and the Green Mountain Boys retreated over the mountains toward Rutland and regrouped here in Manchester at an encampment just behind the Equinox. In August, they would break camp and march south to participate in the Battle of Bennington.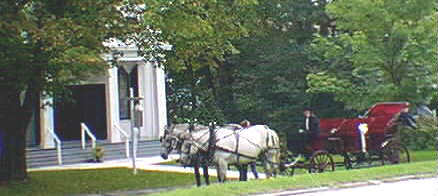 ---
Enroute to Rutland, VT
Rutland Lunch Opportunities. As you crawl into the center of Rutland, you'll notice plenty of spots for lunch, e.g., the Ponderosa Steakhouse, Denny's, Friendly's, Sirloin Saloon, McDonald's, KFC, Dunkin' Donuts, Midway Diner, Wendy's, Burger King, but you might want to wait -- there's a great little outdoor restaurant on the other side of Rutland.

---