---
A REVOLUTIONARY DAY ALONG THE
HISTORIC MOHAWK TURNPIKE

INTRODUCTION
---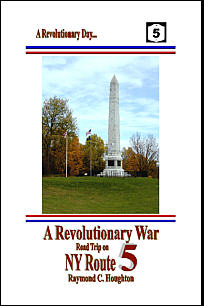 New York Route 5 and its cousin, Route 5S, cross upstate New York and are collectively and historically referred to as the Mohawk Turnpike. They both parallel the New York Thruway (Interstate 90) and the Mohawk River. NY Route 5 hugs the northern bank of the river while NY Route 5S hugs the southern bank.
During the Revolutionary War, the battle to control the Mohawk Valley continued throughout the war from 1777 to 1781. Hostilities continued to occur even after the surrender at Yorktown.
During the time of the Revolution, the Mohawk River was part of a transportation route from Lake Ontario to the Hudson River in Albany. British control of this area would not only disrupt this transportation route, but it would play a role in a plan devised by British General John Burgoyne to divide the colonies.
In the spring of 1777, Burgoyne planned a three-pronged invasion along the Champlain, Mohawk and Hudson Valleys. The invasion would come from Canada in the north, New York City in the south and Lake Ontario in the west. The target for all three was Albany, NY.
Unfortunately for Burgoyne, his invasion from the north was halted at Saratoga (Stillwater, NY) and the invasion from the south was abandoned after the burning of Kingston, about 50 miles south of Albany. The invasion from the west stalled at Fort Stanwix (Rome, NY).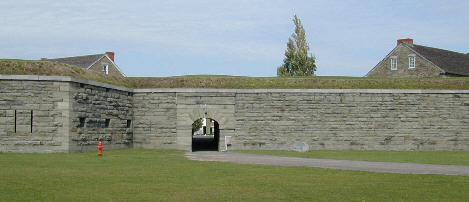 A Revolutionary Day along the Historic Mohawk Turnpike parallels Burgoyneís invasion from the west. It begins early in the morning at Fort Ontario in Oswego, NY on Lake Ontario. This is where Lieutenant Colonel Barry St. Leger and his British forces would begin the invasion.
From Fort Ontario, the road trip heads south by Oneida Lake and through Bernhard on the way to Fort Stanwix in Rome, NY. This is where St. Legerís invasion would end.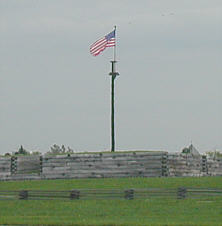 From Fort Stanwix, the road trip continues south to the Oriskany Battlefield. It is here General Nicholas Herkimer and his Tryon County Militia were ambushed on their way to relieve Fort Stanwix.
From the Oriskany Battlefield, the road trip turns east through Utica, Herkimer (Fort Dayton) and Fort Herkimer to the Herkimer Home, paralleling the route taken by Herkimerís militia to and from Oriskany.
From the Herkimer Home, the road trip continues east through Fort Klock, Fort Plain and Canajoharie then detours north through Stone Arabia to Johnstown where Sir William Johnson would sow the seeds of support for the British cause among the Six Indian Nations.
From Johnstown, the road trip takes another detour, this time from the Mohawk Valley to the Schoharie Valley, which like the Mohawk Valley suffered the affects of many raids by British, Tory and Indian forces.
From Schoharie, the road trip turns east to rejoin the Mohawk Turnpike in Schenectady, which was head of navigation on the Mohawk River during the Revolutionary War.
So, if you're ready
---

Take Another Revolutionary War Road Trip