---
NORTHBOROUGH

MASSACHUSETTS
---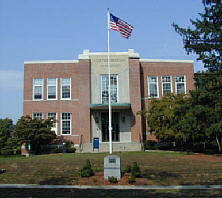 Northborough is a picturesque town with many churches and colonial homes, including one that is dated 1730.
In front of town hall is a Knox Trail maker. Henry Knox passed through Northborough about January 29, 1776.
A day later he would reach Framingham, where the artillery would be inspected by John Adams. Adams made careful notes in his diary of Knox's achievement including a complete inventory of all the weapons seized.
Across from Town Hall is the Northborough Historic Association.

---
Enroute to Marlborough
Williams Tavern Marker
WILLIAMS TAVERN

The first tavern was erected on this site by Lieutenant Abraham Williams in 1665. Destroyed by Indians in 1676, it was promptly rebuilt and managed by the Williams family until 1828. Here the early circuit courts convened, stage coaches changed horses, and historic personages tarried. Massachusetts Bay Colony Tercentenary Commission

(Marlborough Marker)
---

Onto Marlborough, Massachusetts